Posted on January 3, 2023
You want to spend a day at Center Parcs Les Bois Francs in Normandy ? In the heart of a 310 hectare forest, stroll around the lakes, its XNUMXth century castle or the mini animal farm. Enter the immense bubble of shops, restaurants, aquatic complex, spa, bowling and other activities for all ages!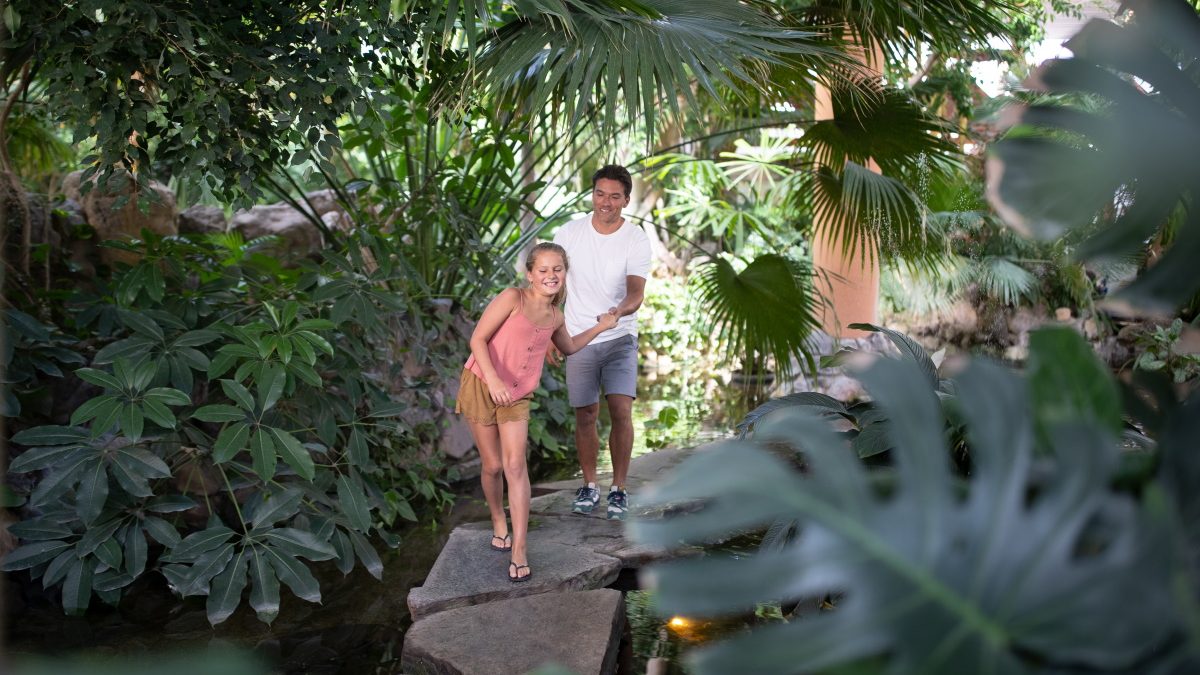 Entrances at single prices with the Tourist Office
In its shop, the Tourist Office in Verneuil-sur-Avre offers day tickets to Center Parcs Les Bois Francs at the price of *:
36 € / person (from 12 years old)
26 € / child from 3 to 11 years old
Free / child under 3 years old
Non-exchangeable, non-refundable tickets, non-extendable ticket validity date.
* rates valid within the limits of available stocks, excluding the cost of parking (€7/vehicle) to be paid online when making your reservation. Single price regardless of your reservation period.
These dematerialized tickets, on sale all year round, allow:
Access toAqua World from 10 a.m., aquatic area with 5 slides, a wild river and a wave pool, in heated water all year round.
Access toActionFactory, a huge indoor playground that houses a dozen activities including the iconic Baluba.
NB: group rates (+20 people), gift vouchers, day access pack + balneo-spa and evening rates (from 16 p.m.) are on sale only from Center Parcs.
Read here the story of a couple's day at Center Parcs les Bois Francs on the Experiences in Normandy Sud Eure Blog.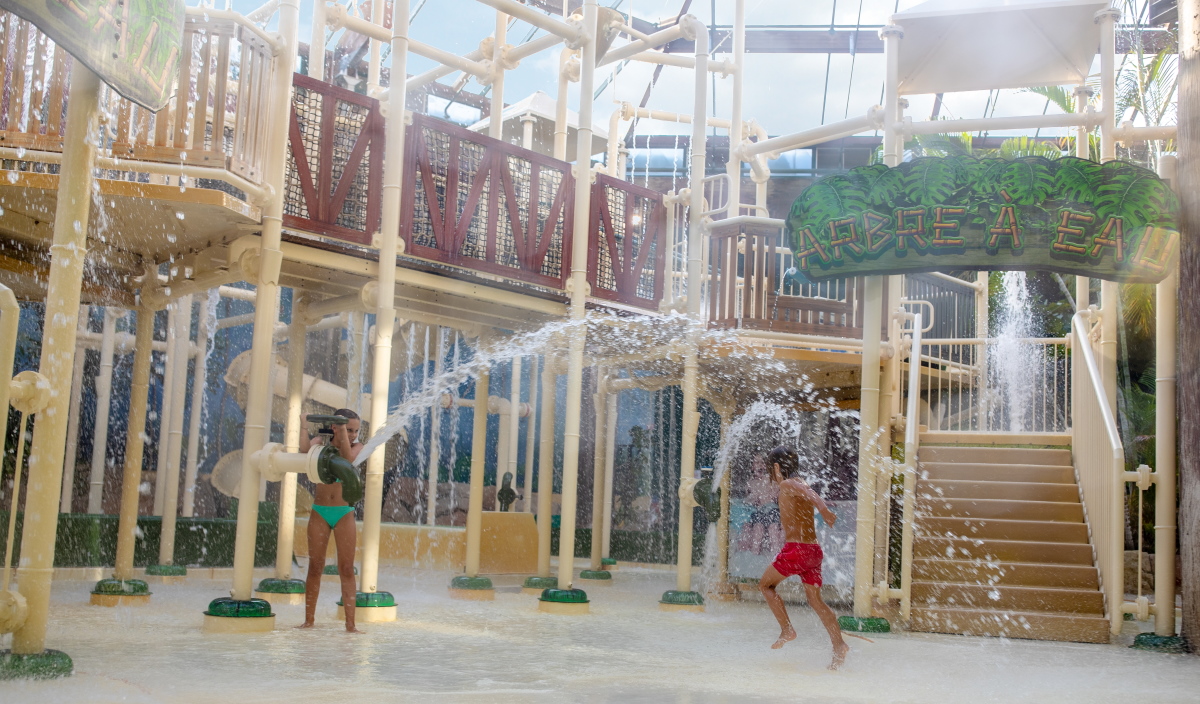 Step 1: Buy your tickets at the tourist office in Verneuil-sur-Avre
Since 26/08/2022, day entries are in the form of dematerialized tickets. You buy a code (1 code=1 person) from the Tourist Office which you will then have to enter as payment when you book online. You can therefore buy this (these) code(s):
– Directly at our premises at 129, place de la Madeleine in Verneuil-sur-Avre (27130). We are open Monday to Saturday from 9:30 a.m. to 13 p.m. and from 14 p.m. to 17 p.m. (until 18 p.m. from 8/04 to 22/09 and from 21/10 to 2/11). Closed on Sundays and public holidays (except July and August). Payments by check, cash, holiday vouchers or bank card.
– Remotely, by sending us a check payable to Office de Tourisme Normandie Sud Eure or holiday vouchers.
– Remotely, by credit card by giving us your bank details and email by phone.
Upon receipt of your payment, the Tourist Office sends you the codes to the email that you have communicated to us.
If you prefer, you can receive your codes by post. You will need to attach a stamped envelope with your contact details to your payment. Allow a minimum of one week between sending your payment and receiving your codes.
Step 2: Book your day on the Center Parcs Les Bois Francs website
a. Go to the section "Day ticket" from the Center Parcs Les Bois Francs website.
b. Select the date, the number of participants, the type of ticket (Day entry from 10 a.m.) and the Experience (Day entry). Then "Validate".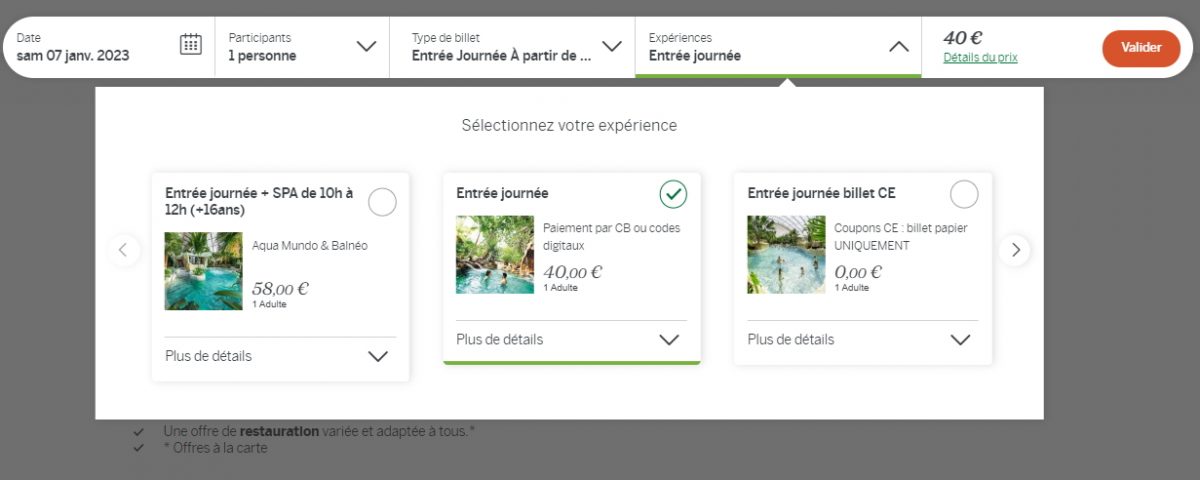 c. Fill in the number of vehicles as well as your full contact details. Then click on "Validate".
NB: at this stage of your booking, the summary shows you a Total to pay. Ignore it. Only the cost of parking will be requested at the end of the reservation. If you don't have a vehicle, enter "0" in the Parking Option (number of vehicles).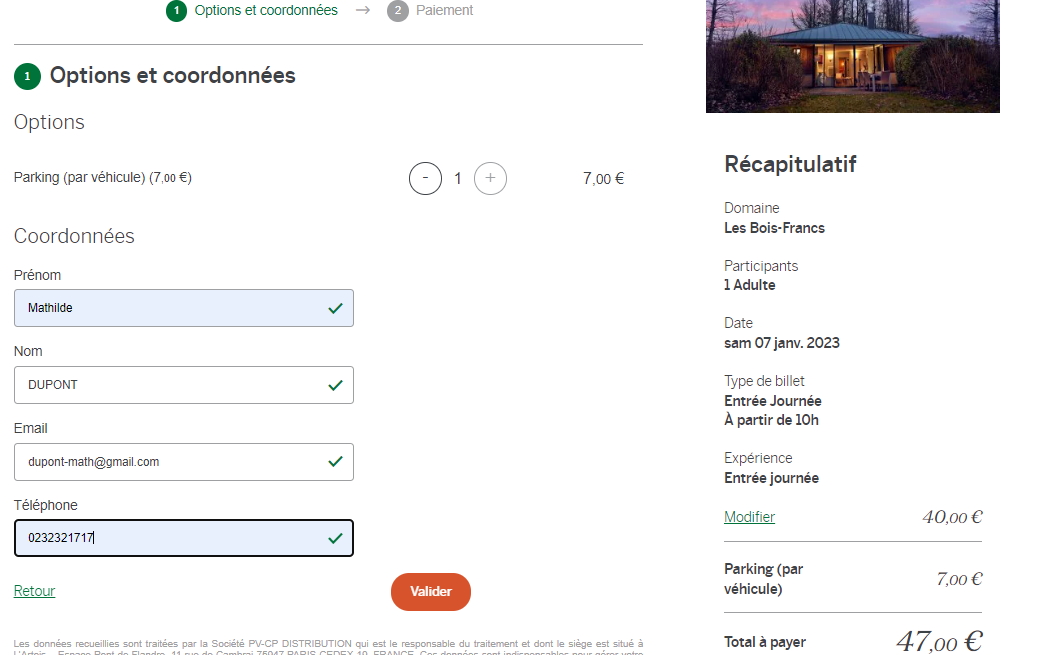 d. At the payment stage, enter the 14-character code (given by the Tourist Office) in the "digital voucher" section. Check the "general conditions" and "Validate the request"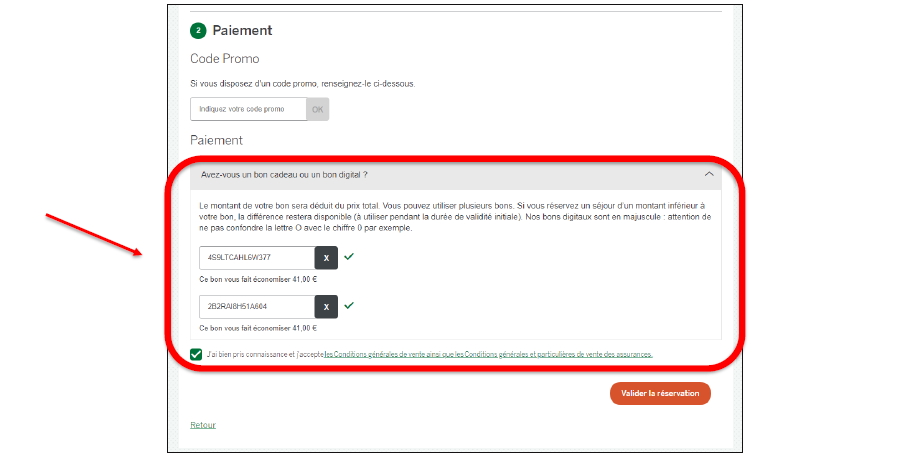 Congratulations, your reservation has been successfully completed! You will receive a confirmation email that you must present to the guard post when you arrive at the Domaine des Bois Francs.
For any technical difficulty encountered on the booking site, please contact Center Parcs on 02 32 60 52 00.